The Best Breast Enlargement Pumps
The awesome-est thing about breast enlargement pumps (apart from their effectiveness) is the fact that they're totally, completely non-hormone-affecting. So if you've been wanting to try natural breast enhancement but don't want to mess with your hormones – breast enlargement pumps provide a safe, side-effect-free, and effective option.
Not to mention that among all the breast enhancement products – breast enlargement pumps are just about the only ones capable of affecting not just the size but the shape of your breasts. If you're looking to get that perfect breast shape of round, full boobs – pumps will get you there.
Okay, so which are the best breast enlargement pumps, you ask?
Well, there are many – too many – out on the market, but there is very little research or reviews on their efficacy, or more importantly – their safety. Badly-designed breast enlargement pumps can tear important breast tissue and vessels, not to mention the time you spend fiddling around with ineffective products.
That's why we only recommend a handful below. They're just summaries here, but there's full reviews of each one you'll want to check out before you commit to any of them – make sure you know every pump's pros and cons before you buy 'cause you'll be on very intimate terms with the pump you choose for the next few months 🙂
Have more questions? Check out our FAQs on breast enlargement pumps!
---
Brava Breast Enhancement System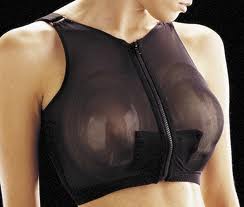 The BRAVA System is an electric breast pump that works by applying a gentle 3-dimensional pull to place the breasts under tension. This sustained tension causes the breast cells to respond by replicating, resulting in new breast tissue.
It's the first clinically proven approach to breast enlargement that permanently grows natural breast tissue – users typically experience an increase by 1/2 to 2 cups.
The main downsides of the BRAVA System is that it's price-y (from $900 upwards) and it requires you to use it for at least 10 weeks for at least 10 hours every day. BRAVA Systems has great reviews from those who've actually managed to go through with it – no easy task, which is why BRAVA has a pretty high dropout rate. Read our full BRAVA Systems review for more details!
If you're interested in trying Brava but don't want to pay thousands of dollars, try checking eBay. From time-to-time, women who've already grown using the system will sell if for a few hundred dollars. If you're lucky, you just might find something that's your perfect size!
---
Noogleberry Breast Enlargement Pump
The Noogleberry breast pump is well known in the natural breast enhancement world – and for good reason. This simple pump has helped many women expand several cup sizes, even out uneven breasts, and plump up sagging breasts.
The Noogleberry is extremely simple to use – you simply place the cups over your breasts and then you press the hand-pump until you feel pressure. This pumping creates a suction on your breasts and promotes blood flow to the breast area, causing it to expand.
For the first few weeks, you'll see swelling right after you pump but it will disappointingly go down within a few hours. As you continue, you'll notice that the growth is there to stay.
The Noogleberry system is only $80 and you can use it again and again until you see the growth you want. Read our full Noogleberry review for details!
---
Bosom Beauty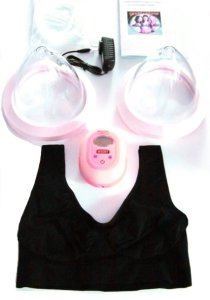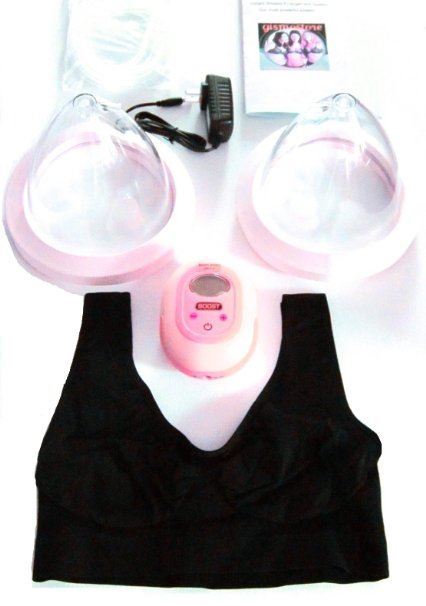 You can think of Bosom Beauty as the offspring that might be produced if BRAVA and Noogleberry mated. It is an electric breast enlargement pump – like BRAVA – but it's much less high maintenance and requires less "pumping" time – like Noogleberry.
Its real claim to booby fame, though, is its unique sustain-and-release technology which is basically a vacuum that automatically pulls and then releases the breasts throughout the entire session.
Allegedly, this technique is 4 times more effective than systems that just sustain tension (like both the BRAVA and Noogleberry) since the motion increases blood flow and reduces the time it takes to get results.
Bosom Beauty's price tag is around $100 to $250 and its main downside is the fact that it's pretty darn powerful – it can be downright painful, especially if you're new to breast pumps. Read our full Bosom Beauty review for more details!