6 Bras That Make Your Breasts Look Bigger
Most people think bigger breasts can only be achieved by painful and expensive surgery, but sometimes, all it takes is a visit to the nearest lingerie store.
There are oh, so many options for instantly giving your girls a boost and something as simple as being armed with the right bra can do wonders for your chest.
Here, we give you a definitive breakdown on the absolute must-haves that should be stashed in your underwear drawer if you're on the quest for some instant gratification.
Check out the 6 types of bras that make your breasts look bigger…instantly.
1. Underwire Bras
The most-straightforward of boob-enhancing bras, chances are you already have a few of these in your everyday rotation. Underwire is a relatively modern invention, and it really just gained popularity after World War II. It's invention paved the way for a myriad of bra-designs such as demi bras, low plunge bras, and strapless bras which allow for a lot more flexibility in terms of design.
In general, underwire bras are great if you're looking for a subtle lift and enhancement of the cleavage. It has ample support so you're comfortable, and it provides a nice shape for your breasts under fitted clothing.
However, keep in mind that the traditional underwire bra was designed for women with a more slender, columnar body shape and many underwire-type bras may not be the most flattering or comfortable for curvier and pear-shaped women since having wide-set boobs or prominent ribs can cause the wires to splay out so they constantly poke at the skin.
No worries, though. There are plenty of modern modifications, like underwire bras that come with a deep plunge at the center to accommodate for more boobage (and provide a lovely gathering of cleavage). Like so…
A lot of the bras you find below will also have underwire for support so keep this in mind as you browse!
2. Padded Bras
Thank God padded bras were created, or we would all still be stuffing tissue down our bras. In a nutshell, padded bras are those with contoured or molded foam or fiberfill padding built into the cup of the bra itself. Like this memory foam padded bra…
These types of bras usually have underwires and are made for a more subtle and natural enhancement and to smoothen out any nipple definition.
Padded bras typically vary in terms of the amount of padding, which can be light, medium or heavy, and the location of the padding on the bra cup. Some bras pad either the bottom or the sides of the cup depending on the intended effect. If you've already got some natural boobage – opting for a padded bra that's lightly padded on the side and/or bottom will give you both lift and cleavage using what you've already got.
But if you don't have much breast tissue to speak of, you'll want to opt for a padded bra that really supports and wraps your breasts together so you don't get that embarrassing bra gap between your breasts and the bra. We recommend something like these gorgeous bras…
Padded bras are best for those with naturally small breasts or those with uneven breasts who can opt for bras with removable pads to even out their size.
While padded bras are generally effective to achieve bigger breasts, it's not the best choice for women who perspire heavily, since fiberfill or foam material isn't breathable so it can get itchy and uncomfortable. An option for this would be to seek out padded bras made specifically with "spacer foam" or any other material that clearly indicates that it is breathable.
3. Air-filled, Water-filled, or Gel-filled Bras
A subset of padded bras, gel or air filled bras are a great option for women who are looking for padding that looks, feels, and moves more naturally with the body. And just 'cause they're filled with boob-like substance, doesn't mean they're bulky – you'll find strapless, practically weightless versions of these types of bras, like this simple and elegant gel bra…
Or this lovely, lacy water-filled push-up bra…
And, of course, you'll find more below…
4. Push Up Bra
Probably the most important innovation in lingerie, the push up bra is the most popular option to increase breast size since it affects your breasts in multiple ways. As the name suggests, they are designed to push your breasts up, creating both lift and cleavage by putting breasts closer together.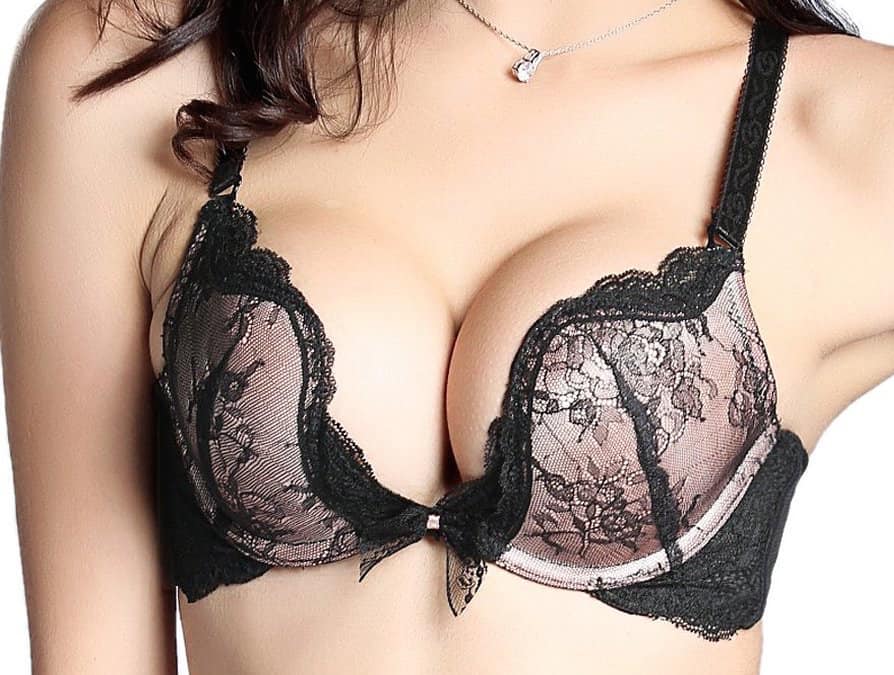 There are a helluva lot of variations to this kind of bra, the best of which gives a significant boost by sizable padding (often called bump pads) to create the illusion of even bigger boobs. More recent innovations to the push up bra is the inclusion of a variety of removable foam inserts instead of built-in, so you can customize according to the breast shape you find most flattering.
But our favorite innovation to the push up bra is in the form of "instant, extra boost" functions like this amazing strapless push-up that has air cushions embedded in the bra. Yea, you read that right – you press the little "air pump button" in between the cups and it instantly adds air into the cups (you can control the fullness) to immediately give you a bigger, better push.
We also love how this bra is wire-free and seamless, making it damn comfortable to wear.
Push-up bras overall are best for smaller boobs, and under low-cut or strapless tops. However, those with pendulous, wide-set breasts or cup sizes that range from AA to A may not get the intended effect of "kissing cleavage" or cleavage that meets at the center if there is not enough breast tissue.
Rest assured, though – even if you don't have much breast tissue, with all the types of push up bras out there, you'll be able to find one that gives you some extra oomph. Look for bras that come with embedded fillers like memory foam or gel, like the ones above!
Tip: Women with uneven cup sizes should also opt for push-up bras with removable padding so they can even out the smaller boob.
5. Silicone Bra Inserts
Silicone bra inserts, sometimes nicknamed chicken fillet cutlets, are basically a set of removable, silicone-filled padding that you can just insert into your existing bras for instant cleavage. Like so…
It's by far the most cost-effective option, since you don't have to overhaul your entire lingerie wardrobe. Simply stick these jiggly babies into your bra, bikini, or workout sport bras. They're totally discreet and feel like the real thing – you won't even know they're there.
In terms of cons, steer clear of this if you are allergic to silicone or plastic and rubberized material, as it might cause irritations, especially when you sweat. They also require a bit more care to avoid leaks or distortions in the padding's shape.
Which ones to get? Valentina's are the best. 
6. Adhesive Breast Lifts
If you're a fan of going braless but are looking to enhance your breast's natural shape, you'll want to give this recent innovation a go. Adhesive breast lift tape is made from medical quality adhesive that you stick onto your breasts to provide a subtle lift without the discomfort of a bra.
It also keeps your breasts higher so your breasts also look more perky – and you get some cleavage in the mix.
This is the best option if you're after the natural movement of the breasts, or if you want underwear that is most flexible with a wide range of outfit options. You can use the adhesive breast lifts without worrying of exposed bra straps when wearing strapless or backless tops.
You can even find adhesive bras that come with a little extra padding to give you fuller breasts that look and feel like the real thing. Like Sportown's Silicone Push Up Invisible Bra…
One of the best parts is that for such a simple bra, there are so many variations that you can get – pretty much all of which give you more cleavage and perkiness without the bother of straps or uncomfortable wiring.
We especially love the fact that the extra padding provided by these bras stick to your breasts like white on rice so you don't get that embarrassing gap between boob and padding that can happen with regular push-up bras. You know what we mean…
Most of these adhesive invisible bras are also hypoallergenic and dermatologist-tested, so there are minimal skin allergy issues reported – good news for you sensitive-skinned beauties!
In terms of cons, the number one complaint reported for this type of bra is that they aren't sticky enough. The last thing you want is to be dancing the night away next to a cutie only to find that one of your "boobs" has fallen off.
To avoid the horror of that happening, you'll want to choose an adhesive bra that's pretty darn adhesive – like the ones we've selected above. Also, try to avoid wearing these bras in really hot, humid weather since that reduces the stickiness of the bras. If you have excessively oily skin, that can also affect the adhesives on the bra so you might want to skip these.
Lastly, keep in mind that these bras are really intended to stay in place for only about 8 hours so if you plan on using them longer – beware, the adhesive has a time limit.