What You Must Know Before Taking Bovine Ovary
1. Not all cows are made equal
Before you purchase your Bovine Ovary supplements, please check the company for their ovaries' source. There are plenty of Bovine Ovary supplements being sold, yet most of these companies are not reputable and cannot vouch for the source of their products.
This is the main reason we only recommend ONE bovine ovary product on this site – Swanson's Raw Ovarian Glandular. 
The company is not just another breast enhancement company – they're a long-standing producer of vitamins and natural supplements and their bovine ovary pills are made from Argentinian cattle according to Good Manufacturing Practice (GMP) certified laboratories in the USA.
2. Stay away from phytoestrogens
Bovine Ovary promotes breast growth by reactivating your body's natural growth hormones. You don't want to interfere with your body's natural production of progesterone and estrogen by adding phytoestrogens into the mix.
You may already be using a breast enhancement cream to supplement your bovine ovary pills – which is a great idea since skin directly absorbs natural breast enhancement products – check to make sure it isn't made using phytoestrogenic herbs (most breast creams are).
Our favorite breast cream to use alongside Bovine Ovary supplements is Gluteboost.
Gluteboost is totally non-hormonal and it's the only plumping cream we know that contains the potent mix of Voluplus and Volufiline.
Both ingredients are proven effective for increasing fat cell production and storage and of all the best non-hormonal creams – this tops the list.
3. Know your body temperature
Or, more specifically, make sure that your body temperature is safely above 98.2 degrees. If it is not, the Bovine Ovary supplement will not be effective. If your body temperature is consistently low, find out why and follow the best body temperature raising tips to quickly – and safely – boost your temp.
You can also drink delicious ginger tea.
4. Protein is your friend
Most hormones are made of protein, so you can think of protein as the building blocks for your growing breasts. It is important to get enough protein in your diet while taking Bovine Ovary supplements.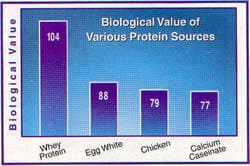 We highly recommend whey protein – in case you are wondering why, whey is the fluid that remains of the milk of any animal after cheese-making. Whey protein supplies the body with amino acids, which are the building blocks in creating hormones, skin, hair, muscles, organs and blood.
You can also skip the protein powder altogether (although they are more convenient for accurately measuring your protein intake) and just make sure you get enough protein in your diet.
Here is a useful little protein calculator to see how much protein you should be getting.