Breast Success Cream Review
Because the skin directly absorbs what is applied to it, we highly recommend incorporating high-quality natural breast enhancement topicals into your daily routine.
Of these topicals, we especially recommend products that contain Volufiline.
Volufiline is a trademarked cosmetic substance that is a combination of a plant extract known as sarsasapogenin and hydrogenated polyisobutene. Sarsasapogenin interacts with adipose cells and triggers them to divide and grow. When combined with the hydrogenated oil, polyisobutene, sarsasapogenin also increases the amount of fats stored.
Together, these two create a the perfect tag team of creating more fat and then storing them away in the areas to which Volufiline is applied. The synergetic ingredients in Volufiline work directly on fat cells and trigger them to start reproducing.
What is great about this substance is its non hormonal effect. This means it will enhance your breasts from the outside without interfering with your Bovine Ovary supplements.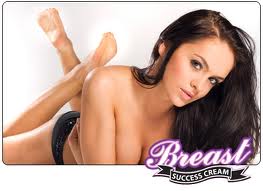 While Breast Success pills cause breast enlargement with herbs, their cream is totally different. The cream contains no herbs at all and instead contains two very useful breast filling, plumping, and firming ingredients – Volufiline and Bio-Bustyl.
We really like both ingredients. They won't necessarily enlarge your breasts by several cup sizes – but Volufiline in particular is very effective at plumping up and rounding out your breasts. It works to multiply the fat cells around the breasts to make it easier for the breasts to store these fat cells.
Women who already have some fat around their breasts will see results much quicker, since there are more fat cells to work with. Young, healthy women will also have quicker results since their cells multiply faster.
As for Bio-Bustyl – as the breasts begin to grow larger and plumper with Volufiline, Bio-Bustyl helps the breast skin to maintain integrity and reduces skin fatigue as the skin around the breast expands. Bio-Bustyl has been shown in clinical studies to stimulate collagen by as much as 350% so it's a very helpful ingredient in making sure you come out of your breast enlargement journey with bigger breasts that don't have stretch marks.
Ingredients: Emulsifying Wax, Natural Palm Stearic Oil, Soybean Oil, Purified Beeswax, Glycerin USP, Volufiline, Biobustyl, Purified Water.
Size: 2 oz., or 60 mL
Price: You'll find Breast Success cream at the cheapest price on Amazon!
For the best and fastest results, we recommend complementing topical breast growth with internal breast growth. Check out the best natural breast enhancement pills available!