The Perfect, Nonhormonal Breast Cream
Now that you know how Volufiline works to enlarge breasts and how it's been clinically proven to increase breast size by up to 8.4% in less than 60 days, you might be wondering which Volufiline-containing creams you can get your hands boobs on. Good news is – there are a lot of them. And most of them also contain several other helpful, non-hormonal ingredients for booby growth.
Below are the best products using Volufiline as their main ingredient. Peruse through and pick the one that appeals most to you 🙂
---
Gluteboost Breast Cream
Gluteboost is intended for getting you a bigger butt – but that doesn't mean it can't be used to enhance the breasts as well. And this is probably our favorite nonhormonal cream right now for the simple fact that it contains both Volufiline and Voluplus.
In case you're wondering what the difference is – Voluplus's active ingredient is Macelignan, which works to stimulate the production of fat cells as well as increase the size of each fat cell. A clinical study on Voluplus found that after 28 days, volunteers who'd applied Voluplus to their breasts twice a day saw an increase of 12%.
Volufiline, on the other hand, is made from a combination of the sarsasapogenin from Zhi Mu and hydrogenated polyisobutene. Sarsasapogenin interacts with adipose cells and triggers them to divide and grow. When combined with the hydrogenated polyisobutene, sarsasapogenin also increases the amount of fats stored. There is a clinical study on Volufiline that lasted longer than the one on Voluplus. The volunteers applied Volufiline twice a day to just one breast and the best responders saw a 6.4% increase in volume after 28 days, a 8.4% increase after 56 days,
All in all, the main difference between Voluplus and Volufiline is simply their ingredients but as for their function – they're basically similar in that they both increase both fat cell production and storage in your breasts. And we love the fact that the Gluteboost cream has both 🙂
Check out all of Gluteboost's creams and special deals!
---
Breast Success Cream
Breast Success Cream contains Volufiline and Bio-Bustyl. Volufiline stimulates the proliferation and storage of new fat cells.
As for Bio-Bustyl – as the breasts begin to grow larger and plumper with Volufiline, Bio-Bustyl helps the breast skin to maintain integrity and reduces skin fatigue as the skin around the breast expands.
Bio-Bustyl has been shown in clinical studies to stimulate collagen by as much as 350% so it's a very helpful ingredient in making sure you come out of your breast enlargement journey with bigger breasts that don't have stretch marks.
Keep in mind that those who already have some fat around their breasts will see results much quicker, since there are more fat cells to work with. Young, healthy women will also have quicker results since their cells multiply faster.
You can get Breast Success at the best price on Amazon!
---
IsoSensuals ENHANCE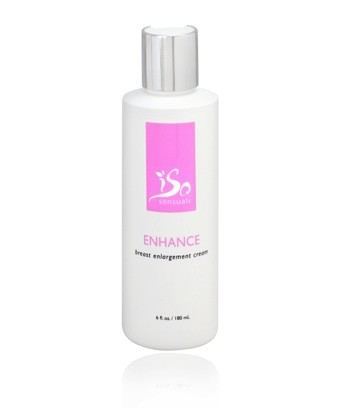 IsoSensuals ENHANCE is a very unique product, probably the only one of its kind.
The product contains a trademarked ingredient known as VoluPlus™ which is a combination of Macelignan – an active ingredient made from nutmeg seeds which acts on the cell differentiation process of the adipose (fat) tissues – and Macadamia Oil – which is rich in mono-saturated fatty acids and palmitoleic acid.
VoluPlus™ stimulates and increases the creation of new cells able to store lipids and enlarges the volume of vacuoles so more lipids (fats) can be collected. As it increases the amount of fat cells and your breasts' ability to store fat, your breasts physically expand and become fuller and shapelier.
IsoSensuals has been proven in both lab trials and in human studies to increase breast volume by up to 18%. The ENHANCE lotion has positive reviews and testimonials from satisfied users. You can view some of them here.
In addition to the positive reviews and efficacy of this breast enhancing lotion, what we especially love about IsoSensuals is that it contains all natural ingredients (see the list below) and absolutely NO parabens, propylene glycol, no petroleum by-products, and no silicone oils – this is of paramount importance when you consider that the skin directly absorbs the products put on it.
IsoSenuals ENHANCE is available on Amazon. You can also try their awesome butt enhancement cream – IsoSensuals CURVE.
---
SLIM EXTREME 3D Super-Concentrated Modelling Bust Serum TOTAL PUSH-UP EFFECT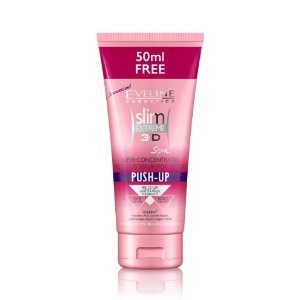 SLIM EXTREME Bust Serum is a concentrated formula intended for daily care for delicate breast. It lifts and firms breasts, stimulates cell renewals, strengthens the skin and improves its elasticity. Skin becomes more elastic and taught every day, the breasts are more full, round and firm.
There is a visible effect on the volume and contour of breasts. Plus, the serum is helpful for reducing the visibility of stretch marks.
Ingredients: Water, Glycerin, Centella Asiatica, Cetyl Alcohol, Glycine Soya Oil, Butylene Glycol / Laminaria, Hyperborea Extract, Hydrogenated Polyisobutene / Anemarrhenae Asphodeloides (Root) Extract, Water / Propylene Glycol / Acacia Seyal Gum, Hyaluronic Acid, Caffeine, Propylene Glycol, Sodium Polyacrylate, Dimethicone, Glyceryl Stearate SE, Phenoxyethanol / Methylparaben / Butylparaben / Ethylparaben Propylparaben, DMDM Hydantoin, Fragrance

Size: 11 oz.
---
Total Curve
We really like Total Curve's cream – it contains an ideal 3% concentration of Volufiline, as well as helpful ingredients like aloe vera gel and mango butter to hydrate and nourish your breasts.
The only thing is that you can't seem to be able to get just the cream since they sell their pills (which are herbal) and cream as a package. This is fine if you're going the herbal breast enhancement route, but not so great if you're not and all you want is the cream.
But in case you are going the herbal route – you can get a month's supply of Total Curve's herbal pills and Volufiline-containing cream for $69.95 (it's a lot cheaper when you get the 6-month package – $50/per month).